Medicare Supplement Insurance
Medicare Supplement Insurance Plans
Since Medicare alone isn't designed to pay for everything, Medicare Supplement plans are designed to pay for things that Medicare approves, though does not pay 100%.
A Medicare supplement insurance policy, also known as a Medigap policy, helps pay your share (coinsurance, copayments or deductibles) of the costs of Medicare-covered services. Some Medicare supplement policies cover certain costs not covered by Original Medicare Parts A and B.

Companies Offer the Same Basic Benefits

Medicare supplement insurance companies can only offer standardized Medicare supplement coverage identified by letters A through N. Each standardized Medicare supplement insurance policy must offer the same basic benefits, no matter which insurance company sells it. Cost and customer service are usually the only difference between Medicare supplement policies sold by different insurance companies.
When Can I Apply for Medicare Supplement Insurance Plan?

First must enroll for Part B

Eligibility typically starts 90 days prior to 65th birthday

Coverage begins 1st day of month

You're past your open enrollment period as long as you don't have other coverage

You want a Medicare supplement plan with a lower premium

You leave your Medicare Advantage/Private Fee for Service plan

Your employer discontinues its group retiree health coverage

MEDICARE ADVANTAGE PLAN PART C

Includes all benefits and services covered under Part A and Part B

Run by Medicare-approved private insurance companies

Usually includes Medicare Prescription Drug Coverage (Part D) as part of the plan

May include extra benefits and services for an extra cost

What are my Medicare coverage choices?

There are 3 main ways to get your Medicare coverage.
Original Medicare

Original Medicare with a Supplement

Medicare Advantage - most at $0 Premium Dollars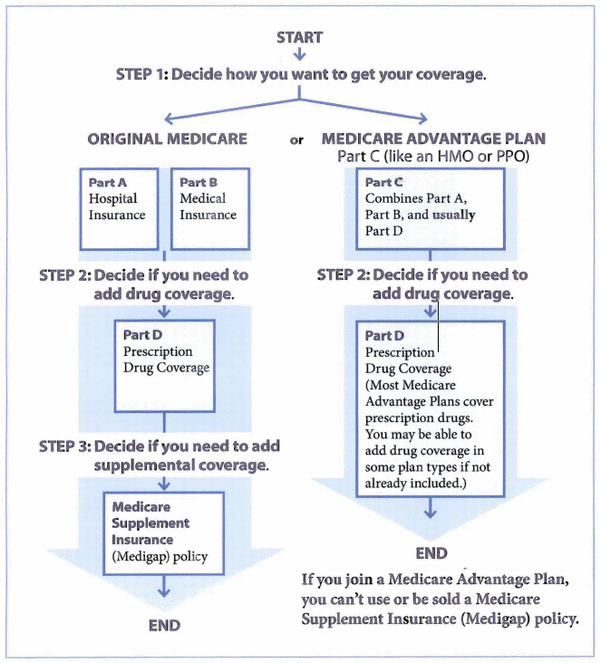 More Information Here!
We assist you with informative, specific, understandable information that applies to your situation.